At Weareco, it's our mission to make your 2020 uniform sales smoother, more efficient and more successful for your school.
To help keep your 2020 Back to School orders on track and on time, simply follow our key ordering dates to ensure you have
all your stock in place ahead of time and beat the back to school rush.

By placing your 2020 Summer uniform and Holding Stock order by 10th May 2020 not only wil you be prepared to receive
early delivery of 2020 uniforms in Term 4, you'll also save 10% off your entire B2S Summer Indent Order.

Our smart sales tools are also available to help you manage demand, alleviate pressure and drive optimum sales
through your uniform shop. Once your orders are on track for term 4 delivery, take advantage of our helpful marketing
tips to encourage parents to purchase during the final term, this ensures you can enjoy a stress-free summer holiday
knowing you're prepared as possible.

If you're looking to expand your school apparel range with new Weareco Smart Clothing items contact our
experienced team at sales@weareco.com.au to arrange a tailored planning or design consultation.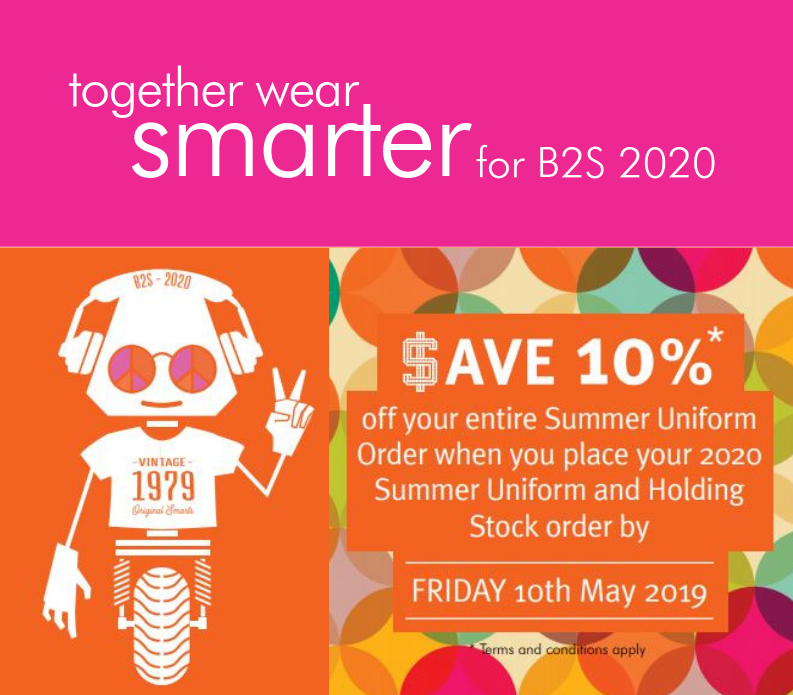 Document Listing